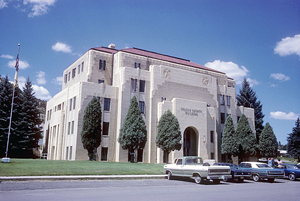 Welcome to Colfax County!
Colfax County Coordinator: Susan Bellomo
Colfax County was created in 1869 from Mora County which was created from Taos County, an original New Mexico county. The county originally covered the entire northeast corner of the state to the Texas border. In 1893 a portion of Colfax County was taken to create Union County. That area was divided again in 1921 to create Harding County.
Colfax County's terrain includes a portion of the Southern Rockies, the foothills with their mining regions, spreading into the cattle lands of the plains. The Santa Fe Trail's Raton Pass offshoot brought the initial settlers from the east to join the existing Mexican and Native American populations.
We are always looking for volunteers to help researchers with Colfax County roots. If you can assist or have suggestions for other resources, please let me know.
State Coordinator:Susan Bellomo
Assistant State Coordinator: Leon Moya